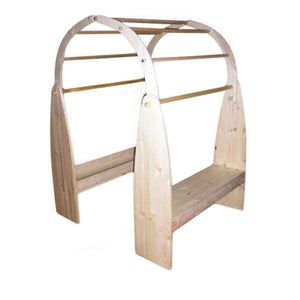 Speelbelovend Playstand
Coming Soon
Playstands are a common sight in a Waldorf kindergarten and popular with families for use at home.
They have a myriad of uses for inventive play and learning!
Speelbelovend's wooden playstand is beautiful and sturdy and often the starting point of imaginative play. It's easily transformed from a cosy little play house into a puppet theater, a play shop or a basswood shelf for children. Two play stands opposite each other can be a cosy play house in kindergarten or at home.
Available with or without an optional Arch. 

Product details:
Age: 3 years+
Size: H103,5 x W29 x L100cm. Shelf H.37cm.
Material: Natural pine wood.
Speelbelovend is a Dutch company that creates toys to assist children in their imaginative play. They are committed to creating high quality products that are produced in ways that can help others.
Note: For a shipping quote of the Speelbelovend Playstand outside the EU please send us an email: info@elenfhant.com before placing an order.