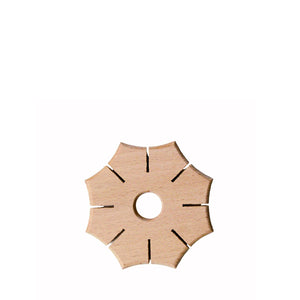 Speelbelovend Knitting Star
Regular price €5,00 On Sale
1 left in stock
This is such a fun way for knitting friendship bracelets, bag handles, bookmarks, and much more.
A simple tool for small hands to make their own ropes and cords! Perfect for taking along to the doctor's office, church, long car or airplane rides, or just to pass some quiet time at home. Slowly made with care by physically and mentally disabled workers in the Netherlands. Instructions included.

Please note: The star is more suitable for older children, due to the level of difficulty. Recommended for ages 8 and up. For younger children, the knitting fork (separate listing) is easier to manage.
Product details:
Age: 8 years+.
Size: Ø8cm.
Material: Beech wood.

Speelbelovend is a Dutch company that creates toys to assist children in their imaginative play. They are committed to creating high quality products that are produced in ways that can help others.