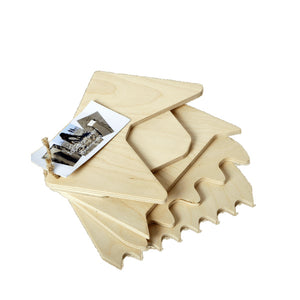 Speelbelovend Wooden Sand Combs - Set of 5
Regular price €12,00 On Sale
Beach days are even more fun with these ingenious sand combs by Speelbelovend.
They are the perfect tools for making unique designs in your sandbox or on the beach. With their different profiles you drag different trails in the sand. Children will be able to create tracks, roads, explore patterns and mark making as well as using the combs to decorate their structures. Set of five. Tied with a natural cord for easy storage at the end of the day. Slowly made with care by physically and mentally disabled workers in the Netherlands.
Product details:
Age: 3 years+.
Size: 16 x 12 cm approx.
Material: FSC approved untreated birch plywood.

Speelbelovend is a Dutch company that creates toys to assist children in their imaginative play. They are committed to creating high quality products that are produced in ways that can help others.