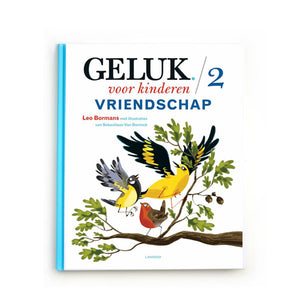 Geluk voor Kinderen 2 Vriendschap by Leo Bormans – Dutch
Regular price €20,00 €20,00 On Sale
3 left in stock
Shared happiness is twice as much fun!
Happiness expert Leo Bormans wrote a wonderful sequel to happiness for children. Happiness for children 2 is about friendship. Good friends are important for a happy life. Maybe you have a lot of friends, maybe you have one. Maybe you do not have a friend yet, but someone will be on your way. This book shows how to be a friend and stay. Because even more important than having friends is to stay a friend. Read together with your child or grandchild these ten brand new stories. Wonder about the fascinating birds, enjoy the colorful illustrations by Sebastiaan Van Doninck, and lead you through the creative assignments and tips.
Product Details:
Recommended for ages 4 years +
Author: Leo Bormans and illustrations Sebastiaan Van Doninck
Measurements: 1,5 x 33,8 x 27,7 cm
Language: Dutch
Pages: 62
Also available "Geluk voor kinderen".