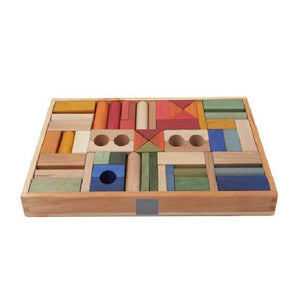 Wooden Story Rainbow Blocks - 54 pcs
Regular price €49,00 On Sale
Rainbow building blocks with matching storage tray by Wooden Story.
Heirloom quality set of natural and colored building blocks with matching storage tray made of solid wood. With these wooden blocks your little one can conjure the most amazing buildings. Included are a variety of shapes to craft any structure you can think of like castles, bridges and towers. Freedom in creation stimulates inventiveness and awakes imagination.
So soft from beeswax and botanical oils, delightful colours, so safe – from nature! Set contains 54 assorted blocks, attractively presented in a paperboard box, which is designed to be reused or easily recycled.
Product details:
Age: 3 years +.
Size: 2.5 cm x 2.5 cm x 7.5 cm (largest block) | Packaging Size: 43,2 cm x 24cm x 3,7cm.
Material: Made of selected wood that comes from FSC certified suppliers. Finished with beeswax and botanical oils, sanded perfectly smooth, soft to the touch. Eco Product, free of harmful chemicals.
Color: Colored with all natural, eco-certified paints and natural colors of various types of wood.
Made in the Beskidy Mountains of Poland.
Wooden Story found inspiration in the forest; they are a family business that is three-generation old and happily welcomed wooden toys since 1969. Wooden Story's Philosophy is simple and joyous, "Our toys – inspired by nature created by us." The range has been created in the beautiful, natural surroundings of the Beskidy Mountains in Poland. The hand-made products are made from FSC Certified timber and finished beeswax and botanical oils the blocks smell of the forest. All the paints are eco-certified and the packaging used is eco-friendly canvas bags and boxes. Each piece has been made with the following in mind: to improve the senses, be soft to the touch, catch your eye with natural colours and smell of the wood.