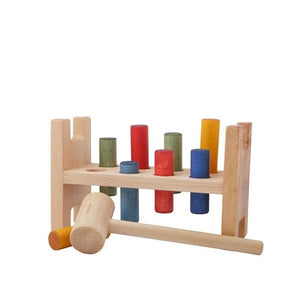 Wooden Story Pound A Peg – Rainbow
Regular price €46,00 On Sale
Wooden Story rainbow pound a peg.
Wooden toys like this last forever and these have the added bonus of being sustainable and gorgeous. The Wooden Story Pound-a-Peg is a delightful, traditional pounding toy. This wooden toy has been made from the finest FSC certified wood, sanded perfectly smooth and finished with beeswax and botanical oil to make each piece irresistibly soft.
Your little ones will have hours of fun pounding the eight colourful wooden pegs into the high quality wooden frame which can then be flipped over to repeat the fun over and over again! This fantastic game helps develop essentials skills including hand eye coordination, cause and effect and there are four pairs of pegs, which can be used for colour matching.
Product details:
Age: 1 year +.
Size: 23,8 x 9 x 14,3 cm ( l x w x h ).
Material: Made of selected wood that comes from FSC certified suppliers. Finished with beeswax and botanical oils, sanded perfectly smooth, soft to the touch. Eco Product, free of harmful chemicals.
Color: Colored with all natural, eco-certified paints.
Made in the Beskidy Mountains of Poland.
Wooden Story found inspiration in the forest; they are a family business that is three-generation old and happily welcomed wooden toys since 1969. Wooden Story's Philosophy is simple and joyous, "Our toys – inspired by nature created by us." The range has been created in the beautiful, natural surroundings of the Beskidy Mountains in Poland. The hand-made products are made from FSC Certified timber and finished beeswax and botanical oils the blocks smell of the forest. All the paints are eco-certified and the packaging used is eco-friendly canvas bags and boxes. Each piece has been made with the following in mind: to improve the senses, be soft to the touch, catch your eye with natural colours and smell of the wood.