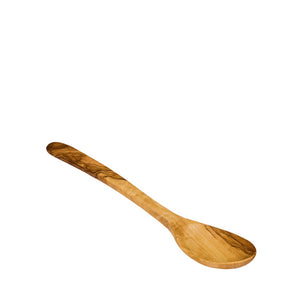 Redecker Children's Spoon
Regular price €10,00 On Sale
4 left in stock
A beautiful and natural alternative for the common plastic children's spoon.
Ideal and durable: Olive wood not only features a particularly attractive grain, it is also extremely hard due to its slow growth. The high oil content makes it water-repellent, non-slip and supple.
Redecker's olive wood products are exclusively oiled with no further treatment. Please do not put them in the dishwasher or use hard scouring pads on them! Instead, wash and dry them after use in order to preserve the beauty of the wood. Rub with regular olive or sunflower oil every now and then, and allow to dry.

Product details:
Size: 20cm approx.
Material: Oiled olive wood.
Made in Germany.
The first handcrafted Bürstenhaus Redecker brushes were produced in 1935. A lot has changed since then. Today, the name Bürstenhaus Redecker stands as it has for many years for an ideal combination of natural quality, function and design. It lives from the blend of inventiveness, sound craftsmanship and creativity. Handcrafted in Germany, Bürstenhaus Redecker brushes are made of domestic woods, bristles, hair, and plant fibers, and have been for decades. Precedence is given to natural, sustainable raw materials.