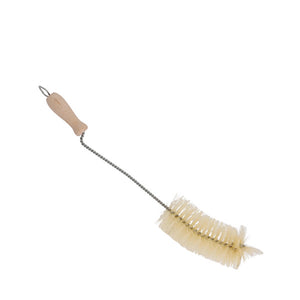 Redecker Baby's Bottle Brush
Regular price €5,00 €5,00 On Sale
2 left in stock
Efficiently clean specialty bottles and glassware with an expertly crafted brush from Bürstenhaus Redecker..
Intended for baby bottles but may also be used for milk bottles, specialty glassware, pitchers and small mason jars; reach, scrub and spin for a thorough wash. Lightweight and easy to maneuver, flexible wire body allows for effortless precision cleaning when accessing narrow or hard-to-reach areas in specialty glassware; finished with a durable beechwood handle with hanging loop.
Great to mix and match with other natural Redecker baby products to complete your collection or gift as a set.
For maintenance, clean with soap and warm water; hang to dry with bristles facing down to prevent damage to natural wood.
Product details:
Size: Bristle area length 13cm, Ø 4,5cm and total size 32cm.
Material: Soft and natural pig bristles, steel wire and beechwood handle.
Made in Germany.
The first handcrafted Bürstenhaus Redecker brushes were produced in 1935. A lot has changed since then. Today, the name Bürstenhaus Redecker stands as it has for many years for an ideal combination of natural quality, function and design. It lives from the blend of inventiveness, sound craftsmanship and creativity. Handcrafted in Germany, Bürstenhaus Redecker brushes are made of domestic woods, bristles, hair, and plant fibers, and have been for decades. Precedence is given to natural, sustainable raw materials.