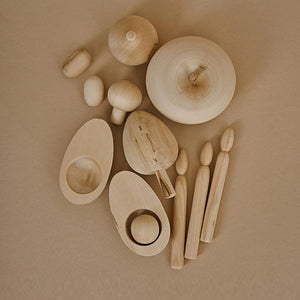 Raduga Grëz Vegetables Set II - Natural
Regular price €65,00 On Sale
4 left in stock
This tactile wooden vegetable set Raduga Grëz is a classic addition to any imaginative play space. 
These vegetables are a delightful way to encourage open-ended play and build your child's communication skills when role playing and talking about the veggies. This 12-piece set includes zucchini, garlic, pumpkin, broccoli, artichoke, olives, asparagus and avocado open to your child's imagination and food knowledge. 

Check out some of our other open-ended toys that would pair beautifully with this vegetable set – the Wooden Vegetable Set 1 and Wooden Mushroom Set.
This set comes with hand sewed cotton bag for storage and safe keeping.
Product details:
Age: 3 years+.
Size: For example Pumpkin Ø 8cm.
Material: Lime wood, covered with lineseed oil, without lacquer. The toys are velvety to the touch.
Care: Toys should not be submerged in water, use damp cloth to wipe them.
Actual colors may vary a little from pictures. It depends on unique wood features and on the individual monitor colors settings.
Handmade in the Russia.
TRUE WOOD WITH PATTERN.
Wrinkles around the eyes are smudged marks.
Women stretch are traces of matured love. Marks and knots on toys like moles on human bodies are signs of life and it makes toys so special and unique.
Raduga Grez is a russian family run brand for playful, slow living and nature inspired families. They create their toys with ambition to make toys as art. They take great pride in making toys by hand from solid wood and using non-toxic water based paint. They preserve the wood pattern and texture in every toy. They hope your little ones will enjoy playing with these toys as much as they love making them.
Raduga Grëz are making toys in small batches. They use solid wood and non toxic water based paint. They believe that less is more and that naturally handmade toys have soul. Every step is done manually. They try to do their best to avoid plastics in packaging. Their toys are packed in carton boxes or sewed cotton bags.