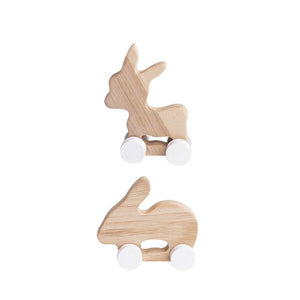 Pinch Toys Set of 2 – Donkey and Rabbit
Regular price €20,00 €12,00 On Sale
2 left in stock
Donkey and rabbit comes as a mini set of two.
Mini donkey and rabbit will delight your toddler or add that sweet touch to the nursery decor. Handmade of non treated wood (Alder), handpainted with white water based non toxic paint. Packed in a pretty cotton drawstring bag.
Product details:
Recommended age: 1 year +.
Size: Donkey 7,5 x 9cm and rabbit 8 x 7,5cm.
Material: Alder wood and non-toxic white paint.
EN/71 Certified.
View all Pinch Toys here.