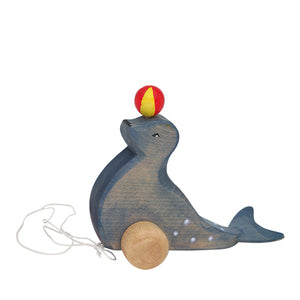 Ostheimer Pull Toy - Seal with Ball
Regular price €30,50 On Sale
1 left in stock
Watch the ball balanced on the sea lion's nose spin!
A delightful pull along toy from Ostheimer that is hand painted for an individual finish. As the seal is pulled along, the ball turns.
Ostheimer toys are beautiful and tactile special toys to collect and cherish. All figures are hand-crafted in Germany. The wood used in Ostheimer toys comes from sustainable domestic forestry. Each product is a unique item individually shaped with love and care. Thus, the Ostheimer Waldorf toys allow children to immerse themselves into the vivid imaginative world of play.
Slight differences in colour and slight deviations in the structure of the grain contribute to the special charm and uniqueness of Ostheimer figures.
Product details:
Age: 18 months +.
Made in: Germany since 1940.
Size: Seal 20 x 10 x 4 cm approx.
Material: Alder wood, painted with eco-friendly, non-toxic stains.
Margarete Ostheimer, a Waldorf (Steiner) teacher, began a collection of toys which enliven the imagination. In her own words: "It is the fantasy of our children alone that breathes life into the seemingly stiff wooden figures, the form and colour of which purposely have been reduced to an essential minimum. It is apparent how little coaching our children need to dive into their worlds."