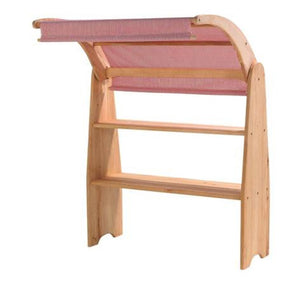 Ostheimer Playstand
Regular price €269,50 €269,50 On Sale
Playstands are a common sight in a Waldorf kindergarten and popular with families for use at home.
Ostheimer's wooden playstand is beautiful and sturdy and often the starting point of imaginative play. Assembled with arch and red/white striped cotton cover, it's easily transformed from a cosy little play house into a puppet theater, a play shop or a basswood shelf for children. Two play stands opposite each other can be a cosy play house in kindergarten or at home.

Product details:
Age: 3 years+
Size: 88 x 31 x 94,5cm.
Material: Alder wood and finished with certified natural oils.
Made in: Germany since 1940.
In 1959, Margarete Ostheimer, a Waldorf teacher (Steiner) in Germany, designs and crafts together with her father a collection of toys, in what is today known as the typical distinctive Ostheimer style, which enliven the imagination. In her own words: "It is the fantasy of our children alone that breathes life into the seemingly stiff wooden figures, the form and colour of which purposely have been reduced to an essential minimum. It is apparent how little coaching our children need to dive into their worlds."
Note: For a shipping quote of the Ostheimer Playstand outside the EU please send us an email: info@elenfhant.com before placing an order.