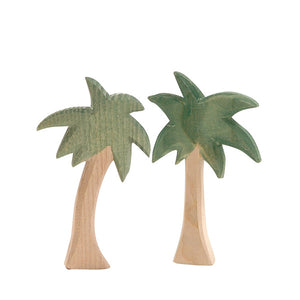 Ostheimer Palm Trees - Small 2 pieces
Regular price €28,00 €28,00 On Sale
Pair of Ostheimer mini palm trees a nice finishing touch to the Ostheimer nativity series.
Ostheimer nativity scenes have been part of many families Christmas time for generations. Year after year new figures are added complementing the festive scene. With a lot of atmosphere they bring the magic of Christmas into our homes and allow children to immerge in the events in a playful imaginative way.
Ostheimer wooden toys have been loved by children for over 70 years. Ostheimer's wonderfully expressive wooden toys and figures are produced from hardwoods of the finest quality, such as maple, elm and ash. Every Ostheimer figure is sanded, painted with non-toxic stain, and varnished by hand, a process which ensures that each one is absolutely unique.
Margarete Ostheimer, a Waldorf (Steiner) teacher, began a collection of toys which enliven the imagination. In her own words: "It is the fantasy of our children alone that breathes life into the seemingly stiff wooden figures, the form and colour of which purposely have been reduced to an essential minimum. It is apparent how little coaching our children need to dive into their worlds."
Slight differences in colour and slight deviations in the structure of the grain contribute to the special charm and uniqueness of Ostheimer figures.
Product details:
Recommended age: 3 year +
Made in: Germany since 1940.
Product size: H. 12cm.
Material: This figure is handcarved and -painted using natural wood and nontoxic colors that conform with the stringent European toy safety standard EN71.
Comes complete in Ostheimer wooden presentation box.
See our full range of Ostheimer here.