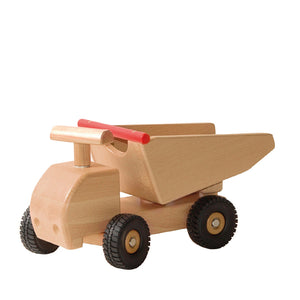 Ostheimer Dump Truck
Regular price €104,50 On Sale
Wooden toy dump truck from Ostheimer.
This heavy duty wooden Dump Truck by Ostheimer is tough enough to handle almost any job. Made in Germany of solid basswood with chunky rubber wheels and a working steering wheel. Children love filling the truck up with sand and lifting the red handle to dump their load.
Ostheimer consciously decided to give their wooden vehicles simple fundamental forms and functions. This way children will use their imagination and their own initiative to bring the play scenes alive. A first idea of basic steering skills can be playfully experienced.
Their vehicles are made of solid basswood. All materials used are certified. They guarantee not only toys of the highest quality but also safety for your child at play.
Product details:
Age: 3 years +.
Size: 37 x 19,5 x 20 cm.
Material: Basswood.
Made in Gremany since 1940.