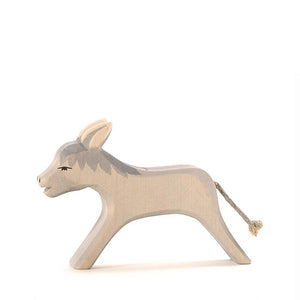 Ostheimer Donkey - Running
Regular price €19,00 On Sale
2 left in stock
A running donkey by Ostheimer.
This cheerful donkey is trotting about and having fun. He is lightly stained grey with a darker mane and a real cord tail. This lovely, handcrafted donkey is of amazing quality and is the perfect gift for any young farmer building their herd. Team up with other horses, ponies and foals to give him some friends.
Ostheimer toys are beautiful and tactile special toys to collect and cherish. All figures are hand-crafted in Germany. The wood used in Ostheimer toys comes from sustainable domestic forestry. Each product is a unique item individually shaped with love and care. Thus, the Ostheimer Waldorf toys allow children to immerse themselves into the vivid imaginative world of play.
Product details:
Age: 3 years +.
Made in: Germany since 1940.
Size: H. 9cm and W. 14cm (including the tail) approx.
Material: This figure is handcarved and -painted using natural wood and nontoxic colors that conform with the stringent European toy safety standard EN71.