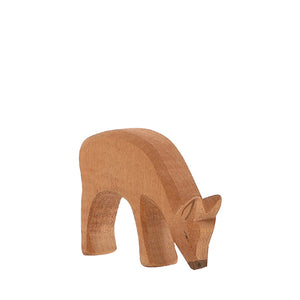 Ostheimer Deer - Eating
Regular price €16,50 On Sale
A graceful deer eating by Ostheimer.
This wooden deer is a perfect addition to the enchanted land of your child's imagination. The deer is ready to stand majestically on a cliff made of blocks, sip water from a silk forest stream or graze at the edge of a table meadow.
Ostheimer toys are beautiful and tactile special toys to collect and cherish. All figures are hand-crafted in Germany. The wood used in Ostheimer toys comes from sustainable domestic forestry. Each product is a unique item individually shaped with love and care. Thus, the Ostheimer Waldorf toys allow children to immerse themselves into the vivid imaginative world of play.
Product details:
Recommended age: 3 year +
Made in: Germany since 1940.
Product size: W. 11.5 cm and H.8 cm
Material: This figure is handcarved and -painted using natural wood and nontoxic colors that conform with the stringent European toy safety standard EN71.
See also our full range of Ostheimer.