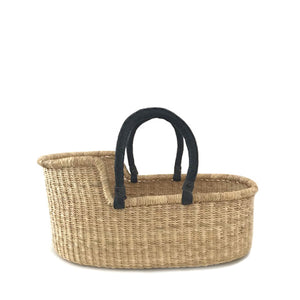 Mini Moses Doll's Basket - Natural with Black Handles
Regular price €65,00 €65,00 On Sale
Adorable mini moses basket.
Tuck up teddies or help little ones prepare for new arrivals with a miniature version of our best selling Moses baskets. Match your mini me.
The mini Moses basket is made using the same traditional technique with dried elephant grass and durable leather handles, this dolls bed is built to last the rough and tumble of child's play.
Our dolls baskets make the perfect gift for the big sister or big brother-to-be as they can care for their doll or teddy alongside mum caring for the new baby in a full sized Moses Basket.
The mini moses basket comes without mattress and dolls bedding
Product details:
Size: Approx half the size of our Baby Moses Baskets, measuring at 47x24x23cm, with slight variations from basket to basket due to their unique hand-woven nature.
Color: Naturel, colors may vary slightly from photos.
Material: Elephant grass and leather.
Care: Basket can be wiped or rinsed with water – do not get water on the leather. If the basket is misshaped: (1) Run under cold water (except for the leather handles) for about 60 seconds. (2) Let the basket sit for 5 minutes to allow water to suck in the straw. (3) Gently reshape the basket. (4) Allow to fully dry, undisturbed, in an airy place. Due to natural nature of basket it can mold if left wet.
Handmade in Ghana.