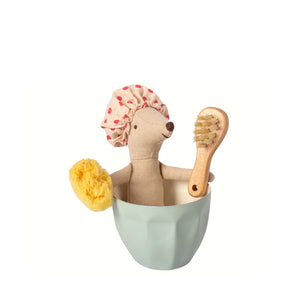 Maileg Mouse Spa & Wellness – Big Sister
Regular price €28,00 €28,00 On Sale
Rub a Dub Dub there is a mouse in the tub.
Ms. Mouse gets squeeky clean with her luffa and scrub brush, but her ears stay dry with her showercap.  She is a resourceful little lady by using a cute painted metal cup for her tub.
Product details:
Ages: 3 year +.
Size: L. 13cm tall approx.
Material: Outer 100% cotton and filling 100% polyester.