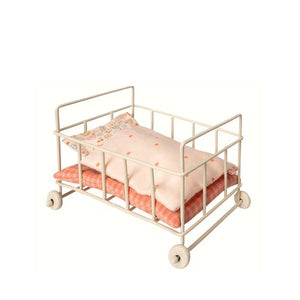 Maileg Metal Baby Cot – Micro
Regular price €28,00 €28,00 On Sale
1 left in stock
Metal cot on wheels with a cream finish from Maileg.
A cozy cot made of metal and comes with a mattress, blanket and pillow. You can tuck in your micro sized friends as well as brother and sister mouse. Sleep tight cute friends!
Product details:
Age: 3 year +.
Size: L. 16cm, W 8.5cm and H. 13cm approx.
Material: Bed metal and bedding 100% cotton.
Maileg is a Danish brand established in 1999 by Dorthe & Erik Mailil. Maileg is a world in which matchboxes can be beds for mice; princesses make perfect teatime companions; and adventures can be found on a friendly forest walk. It is a world where cats and mice are friends. Maileg is a world of childhood imagination - and this is a world we value.