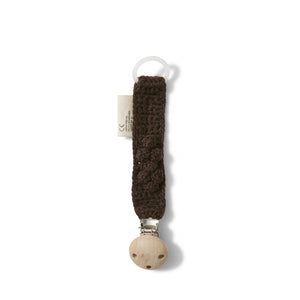 Konges Sløjd Toma Pacifier Strap - Cacao Brown
Regular price €15,00 €9,00 On Sale
4 left in stock
This strap is ideal for securely holding on to your little one's pacifier so it won't get lost or fall on to the floor.
On a busy day with a small child this pacifier strap will be a little help for every parent and child. Thanks to it's knitted pattern, it has a vintage look that matches beautifully with the other products from Konges Sløjd.
Product details:
Color: Cacao brown.
Size: L. 20cm approx.
Material: 100% merino wool.
CE-tested after European standard EN-71-1.
For your child's safety – remember this is NOT a toy. Should only be attached to the children's clothes. Don't use the pacifier string for sleeping.
Konges Sløjd is founded by Emilie Konge Breindal in 2014 in Copenhagen. 
Konges Sløjds design philosophy is to make stylish baby essentials, children's interior products and clothing in a sustainable way with high-quality, environmentally-friendly materials. All this to bring joy to the little ones and at the same time make visual sense to the parents.