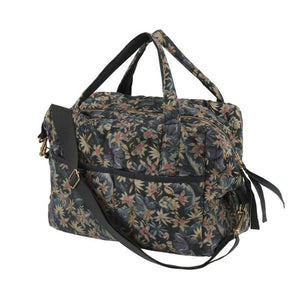 Konges Sløjd Quilted Mommy Bag – Marquis
Regular price €101,00 €101,00 On Sale
Konges Sløjd's marquis mommy bag is designed for all the mums who also wants to use their changing bag for other purposes than diapers, bottles and pacifiers.
Thats why their focus has been on the design to reasure it wouldn't look like any ordinary changing bag.
The bag has two handles, as well as shoulder straps that can be adjusted and removed. This can be used so the bag can hang on the stroller's steering wheel. The zipper can be open up a long way, so it's open the big room to the utmost. which may contain extra clothes, diapers, bottles, etc. The large room is coated inside in case of small accidents. Inside you will find a padded changing pad that can be attached in the bag with push buttons, as well as a smaller compartment with a snap closure and a pocket with zipper for small items as keys. On the outside of the bag there are two pockets too each with a snap closure.
This bag stands out, being designed for parents who want a bag that can be used for anything other than just a baggy bag.
Product details:
Color: Navy with a plant inspired botanic print.
Size: Bag 29x39x25 cm and changing pad 62,5×32,5 cm.
Material: 100% organic cotton with water repellant coating and polyester filling.
Care: Can be washed at 30 degrees.
Check out the coordinating Quilted toiletry bag Marquis.