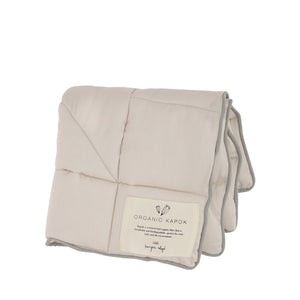 Konges Sløjd Kapok Duvet – Baby
Regular price €61,00 €61,00 On Sale
Great kapok duvet for your beautiful baby duvet covers.
This super duvet is made by Danish brand Konges Slojd and is filled with Kapok. Kapok is a natural and organic fiber harvested from seed pods on trees growing wild in the tropical forests. The fiber has many valuable properties perfect for sensitive babies, allergy sufferers and the environment. It is more breathable than any other natural fiber since it has a hollow core and consist of 80% air, which makes it about 8 times lighter than cotton.
The fibers are covered with a thin layer of wax that repels insects and dust mites; hence no pesticides are used in the production.
Product details:
Material: 100% organic kapok.
Size: L. 100cm and W. 70cm.
Konges Sløjd is founded in 2014 by Emilie Konge Breindal who also designs all the products. 
Konges Sløjd is located in Copenhagen, Denmark, and vouches for quality, functionality and simplicity. They have created a simple, Scandinavian, stylish and, not least, quality- conscious universe for those most dear to us: our children.