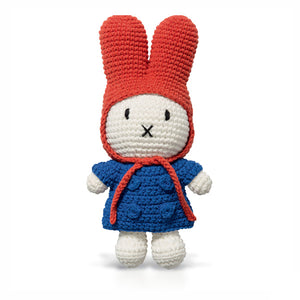 Just Dutch Miffy – Blue Coat and Red Hat
Regular price €27,00 €27,00 On Sale
Miffy handmade and her blue coat + red hat.
These handmade dolls and their different outfits challenge children to explore the world in a playful manner. By immersing themselves in different roles and characters, the children's development is stimulated.
Official Licence Miffy. Melanie & Boris handmade (Nijntje, Nina & Boris). Just Dutch design is all about simplicity, capturing the colourful and inspirational work of Dick Bruna.
Product details:
Size: 25cm.
Material: 100% cotton.
Illustrator: Dick Bruna.
Amsterdam-based company Just Dutch has released a range of handmade Miffy dolls together with her friends Melanie and Boris. A crochet version with a variety of clothes to transform them according to the stories and imagination of children.
Just Dutch dolls are crocheted in Vietnam using locally sourced and certified yarn with the perfect thickness, giving Miffy that authentic handcrafted look. Miffy handmade employs women who work from home, enabling them to look after their families. They also employ disabled people who work at their care facilities. Creating jobs for underprivileged makes this brand all the more special.
Dutch artist, Dick Bruna created the classic children's character, Miffy, in 1955 whilst on a rainy seaside holiday in North Holland. A little bunny kept hopping around the garden of his holiday home and Dick Bruna made up stories about it to entertain his one year old son. That bunny later became Miffy.