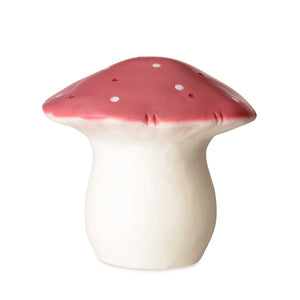 Heico Mushroom Lamp Large - Raspberry
Regular price €95,00 On Sale
Raspberry mushroom lamp by Heico Egmont Toys.
Give a quirky touch to the nursery or your child's bedroom with this chic raspberry mushroom lamp by Heico. It would look great on a bedside table, a chest drawer, a display unit or simply laid on the floor.
The toadstool light looks as great when it is switched off as when it is switched on. The lovely mushroom lamp casts a wonderful warm light. The little holes on the top of the toadstool let the light escape, creating an enchanting star effect to the walls. The mushroom lamp's light is so soft that you can use the lamp as a night light.
All mushroom lamps are hand finished and hand painted in Germany. Heico kids lamps are well known for their quality and original design. The raspberry mushroom lamp makes no exception to this rule!
Product details:
Size: 32 x 32 x 31 cm and cable length 130 cm approx.
Material: Heat resistant plastic and on-off switch.
Color: Raspberry.
The lovely toadstool children's lamp is manufactured and hand finished in Germany to the highest standards by Heico. It is supplied with a CE certified LED system in 6 W.
Check out the coordinating Mushroom Lamp - Raspberry.