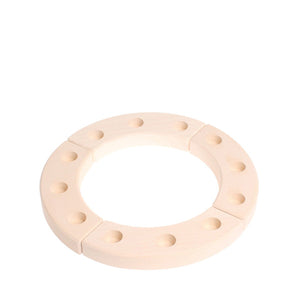 Grimm's Wooden Birthday Ring 12 Years – White
Regular price €17,50 €17,50 On Sale
1 left in stock
Celebrate birthdays with a classic Waldorf ring from Grimm's.
Decorate the ring with candles and painted wooden figures to create a lovely centerpiece. These rings can also be used as seasonal table decorations (e.g. arrival of spring, Easter, Christmas etc.).
The decorating and lighting of the birthday ring is a ritual your family will look forward to every year. Traditionally, a candle for each year of a child's age is pegged into the birthday ring. The other holes can be filled with painted wooden figures. The birthday ring can be easily customized. Kids can choose what figures to decorate the ring with based on their interests. In addition, since the birthday ring is formed from 4 separate arcs, you create a semi-circle or wavy design instead of a ring shape.
Birthday rings can be used year round as seasonal table decorations. Add some wooden bunnies, flowers, or small sprigs of real flowers (in GRIMM's Clay Vases) to create a Easter or spring theme. Plug in a snowman, angel, pine tree or star to create a Christmas or winter scene. With a large assortment of wooden figures to choose from, you can let your imagination run wild.
Product details:
Size: diameter 23cm.
Material: Lime wood, non-toxic water based color stain.
Note: This toy is a decorative article, not a toy!
Grimm's is a family driven and sustainable managed manufacturer since 1978, producing safe and high quality toys at the foot of the Swabian Alb in Germany. In product development and design, they are guided by Waldorf education and other reform pedagogical approaches such as Montessori. Their more minimalist approach in designing toys leaves plenty of room for the development of children's fresh creativity. New fantastic worlds can be continuously created, keeping pace with children's natural, healthy development.
Children and adults alike are drawn to the brilliant colors and beautiful unvarnished wood surfaces. The bright color glaze and plant based oils preserve the living surface of the wood in structure and feel. The result is a typically rough yet velvety wooden surface which contributes to greater play value, especially for building components.