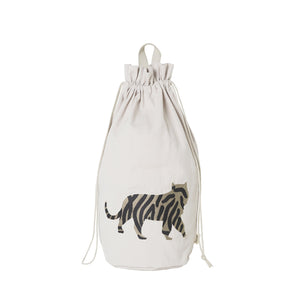 Ferm Living Kids Safari Storage Bag – Tiger
Regular price €25,00 €25,00 On Sale
1 left in stock
Beautiful fabric bag from Ferm Living Kids.
Keeping bricks and teddies off the floor of your kids' room seems to be an eternal task. Store them in the playful Safari storage bag, adorned with a sweetly embroidered tiger that will turn cleaning up into a game.
Product details:
Color: Natural.
Size: Ø: 24 x H: 50 cm.
Material: 100% organic cotton canvas, GOTS-certified.
Care: 30° gentle wash.
As we navigate expectations and dreams in the search for meaning and comfort, we long for a balanced life with room for chaos and calm, moments of reflection and times of joy. A place where we can be ourselves, realise the true value of things, and feel at home. Based on a passion for authentic design and clear functionality, Ferm Living challenge themselves to shape the future and take pride in creating products that help you balance the contrasts of life.
Ferm Living's soft forms, rich textures and deep colours allow you to create an authentic and composed atmosphere, while avant-garde shapes, striking patterns and curious details add a touch of the unexpected.
From their base in Copenhagen, they work with artisans around the world, fusing their Scandinavian mindset with global skills and traditions.
They take their responsibility to people and the planet seriously, and expect the same of their partners.
They create collections of furniture, accessories and lighting, so you can create space to feel comfortably you. 'Welcome home'.