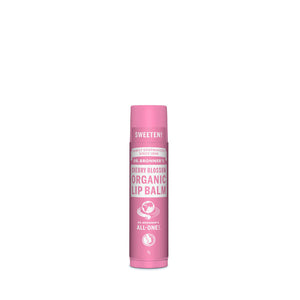 Dr. Bronner's Organic Lip Balm - Cherry Blossom
Regular price €4,50 On Sale
2 left in stock
SOOTHE with Cherry Blossom scent organic lip balm.
Dr. Bronner's Organic Lip Balms, made with organic beeswax, provide a protective barrier to the elements with no synthetic ingredients! None! Organic jojoba and avocado oils help with extra moisturization. Only the finest essential oils are used for fragrance. Certified organic to USDA National Organic Program standards, because what you put on your lips goes into your body.
Suggested uses:
Not just for lips! Use for dry hands and feet, cuticles, chapped chins and cheeks! Apply to dry patches anywhere on skin, heal cracked fingertips in winter. Dab around the eyes, keep brow hairs in place.
Product details:
Ingredients: Organic Persea Gratissima (Avocado) Oil *, Organic Beeswax, Organic Simmondsia Chinensis (Jojoba) Seed Oil, Organic Vegetable Oil, Tocopherol.
*CERTIFIED FAIR TRADE INGREDIENTS
**None remains after saponifying oils into soap & glycerin.