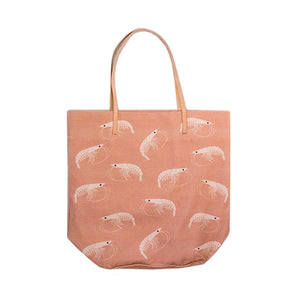 Don Fisher Atlantic Tote Bag Shrimp – Pink
Regular price €66,00 €66,00 On Sale
Stylish tote bag by Don Fisher.
This great tote bag is made from lightly textured cotton with a matching cotton lining and leather straps. It's the perfect size bag for everyday wear.
Don Fisher sails across the seven seas on the search for pretty things. And he brings his prettiest catches home to us. The creations from Don Fisher are handmade from premium materials and ready for use. Every piece from Don Fisher is different, but they all have the same purpose: storing your most valuable treasures.
Product Details:
Color: Salmon pink and lining nude
Size: 42 x 40 cm (without handles) and 62 x 40 cm (with handles)
Material: 100% Cotton
Handmade in Spain from the highest quality material.
See also our full range of Don Fisher.
The graphic designer behind the Don Fisher accessory label, Julia Castano, has stolen my heart with her adorable fishy themed pouches and purses. Julia, based in Barcelona, with a masters in branding and design launched her blog in 2012 called "pesca lo bonito" or "fishing for beautiful things" a collection of inspiring projects from designers she admires. She then opened her Etsy store full of her handmade fishy goodies and has since launched an online store dedicated to the Don Fisher brand. All of her brightly coloured creations are handmade and extremely detailed. From hand painted fish scales to perfectly drawn bones, each little clam, fish, sting ray or crab is a work of art. Sail on over our webshop to see our complete Don Fisher collection.