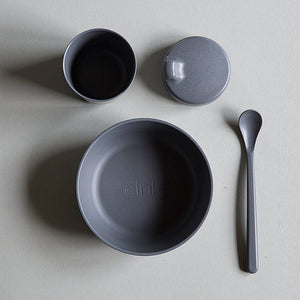 Cink Bamboo Dinnerware Giftbox – Ocean
Regular price €26,00 €26,00 On Sale
A set with a stylish bowl, sippy cup and feeding spoon for your baby's first meals.
As your child gets older take of the spout and keep using the mug and bowl for your older child or even for the other family members. Perfect for snacks, breakfast or picnics in the park! Comes in a beautiful box which makes it a perfect gift.
Use the cup with or without the spout. The drinking spout is useful for when your child is learning to handle the cup by themself. Preference is given to using only the cup and the spout as little as possible.
Available in all five Cink colours.
Product details:
Size: Bowl Ø 13,5cm, deep 5cm. Mug Ø 7cm, deep 7,5cm. Spoon length 17cm and width 2,5cm.
Material: Made from organic bamboo, recycled from the waste created in bamboo chop sticks production. Blended with GMO- free corn starch and a 100% food-grade melamine binder. Coloured only with water-based, food-proof colour pigments.
BPA, PVC and phthalates free. FDA and LFGB approved food safety. Suitable for hot and cold dishes and liquids. No microwave.
Care: Top rack dishwasher safe. Because Cink products are made of natural bamboo material, hand washing is recommended for the best result.
Please note that although bamboo dinnerware is durable and will not rupture as ceramic, it can crack or break if it falls on a hard surface.
All CINK products have been tested In accordance with Regulation (EC) No 1935/2004, German Food, Articles of Daily Use and Feed Code of September 1, 2005 (LFGB), Section 30 and 31, and BfR recommendation, Commission Regulation (EU) No 10/2011 and its amendments. This acknowledges that their dishware is suitable for all types of food and liquid below boiling temperature and safe to use.
CINK products have been tested and approved according to the European standard LFGB and the US FDA standard. CINK bamboo products have been exposed to liquid for two hours in 70 degree heat and the result was well below the limit of what is allowed.
The result was 4 mg / kg food. This can be compared with the standard developed for Europe which states that a maximum of 15 mg / kg food is allowed.