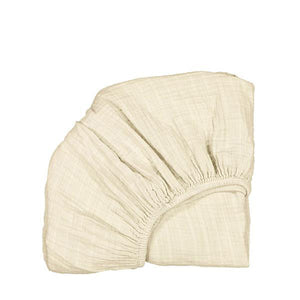 Charlie Crane Fitted Sheet for MUKA Bed - Milk
Regular price €34,00 On Sale
1 left in stock
Have you ever touched a washed cotton muslin sheet?
Because once you do, you'll never want anything else for your baby again. Its softness is incomparable and its touch so pleasant.
Available in 3 sizes:
70 x 90cm
70 x 120cm
70 x 140cm

Product details:
Size: Available in 3 sizes.
Material: 100% cotton washed muslin.
Made in France by Charlie Crane.
Launched in 2014, Charlie Crane is the brain child of Parisian product designers Erick Demeyer and Steven Leprizé. Fusing natural materials with outstanding ergonomically sound design, their collection of minimalist baby rockers and changing tables offer a host of stunning contemporary additions for your style-conscious nursery.