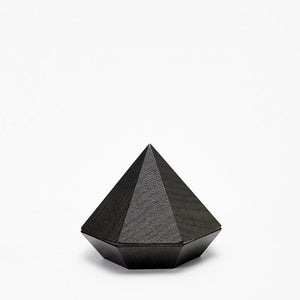 Areaware Diamond Box - Black
Regular price €20,00 On Sale
4 left in stock
Diamond Box Black from Areaware.
Round diamonds, calibrated to achieve the maximum in fire and brilliance, set the standard for all cuts.
Diamond Box can be used to house such a precious gem or other small and special things. The crown and base of this beech wood box are secured with magnets, creating a seamless hideaway for whatever you value.  
Product details:
Size: 6,5 x 7 x 7 cm approx.     
Material: Beechwood and magnets.
Areaware is a Brooklyn (NY) based producer of everyday objects that are both functional and unusual. Their goal is to create thoughtful products that create an emotional response. With a dose of humor, a bit of poetry and a focus on design, it inspires people of all ages. By attracting young designers, Areaware aims to be a strong voice for American design, offering products that inspire and reach people.