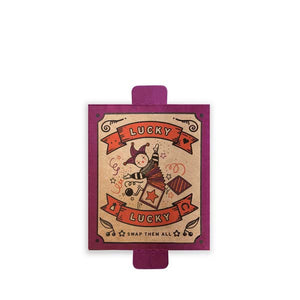 Grapat Lucky Lucky - Second Edition
Regular price €9,00 On Sale
15 surprise sets offered in separate blind-boxes / Sizes and sets vary
As many of you shared with us your happiness and joy about our Lucky Lucky set, we decided to surprise you with a second edition. Meet our new colourful bunch of little wooden friends we create for you. It was a pleasure to invent new characters and little scenes and we can't wait to hear which adventures they share with your little ones.
Product details:
Age: 3 years+.
Size: Sizes and sets vary.
Material: The wood comes from sustainable forests. The dyes are based on water and non-toxic that comply with the European safety regulations of the Toy EN / 71-3: 2014 + A1: 2014 / 2013. Working with dyes and not with acrylic paints allows you to continue having contact with the wood who is noble and kind. The drawing of the vein, its nuances and touches, its own characteristics. The dye does not jump from the wood when it falls to the ground or when time passes because it penetrates deep inside the piece.
Care: Can be wiped with a damp cloth and dry immediately. The pieces should not be submerged in water nor should disinfectant be used..
Each piece that passes through your hands is unique, each one is painted by hand. We understand the "imperfections" of wood as characteristics that make each piece unique. It is beautiful and makes the material even more valuable..
Article manufactured under the safety standard EN71.
Made in Catalunya, Spain.
GRAPAT is a family run company from Spain that provides material without instructions, Open-ended and favors free and autonomous play. Their only premise is to let children play, slowly, without time limits. They suggest material that encourages, invites and stimulates the creation of several fantastic, realistic and invented little worlds. It is made following traditional processes, in the old way, with thick soft raw materials, natural dyes which let the wood veins be seen and vibrant coloured waxes and oils that slightly shine. The products are painted by hand, homemade, surrounded by land, fire, rivers and many children nearby, who inspire them daily.
Welcome to Grapat, and happy game!