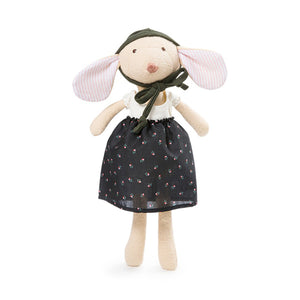 Hazel Village Annicke Mouse in Black Skirt Outfit
Regular price €57,50 On Sale
Hazel Village don't you just want to squeeze one tight?! 
Each animal is handmade from organic cotton, ready to become a lifelong friend.
Annicke measures 35,5cm/14" tall. She is made of light brown organic cotton fleece, with a hand-embroidered face and striped cotton lining on her floppy ears. She is stuffed with washable fiberfill, so you can hand wash her if she gets grubby.
NOTE: ANNICKE MOUSE COMES WITHOUT BLACK BONNET.
Clothes are removable so the animals can share and trade. Each animal has a story card.

Product details:
Age: Safe from birth - but if you leave an animal with a very young child, please remove any loose clothes.
Size: 35,5cm/14" tall approx.
Material: Organic cotton fleece.
Hazel village is a small, ethical toy maker creating charming, quirky woodland animals. They work with with social enterprises around the world to make their products. These organizations have missions to empower artisans with job skills, dignified work, and fair wages. It definitely costs a bit more to make toys this way, but they believe it's worth it. They find that when workers care about their craft, it shows in their beautiful work.