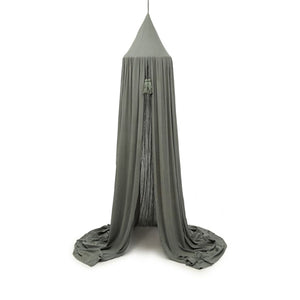 Konges Sløjd Canopy – Ivy Green
Regular price €107,50 €107,50 On Sale
Konges Sløjd's new amazing bed canopy is a little piece of heaven, creating a cozy and calm space for your little one.
The canopy can be used for play or for sleeping soundly and protected at night. Either way we are sure that your little one will love the magic feeling that it will bring to their room. The dusty colours and the light muslin quality brings a cloud like feeling to the canopy.
Product details:
Color: Ivy green.
Size: L. 300cm and bamboo ring Ø 50cm.
Material: 100% organic cotton.
Konges Sløjd is founded by Emilie Konge Breindal in 2014 in Copenhagen. 
Konges Sløjds design philosophy is to make stylish baby essentials, children's interior products and clothing in a sustainable way with high-quality, environmentally-friendly materials. All this to bring joy to the little ones and at the same time make visual sense to the parents.