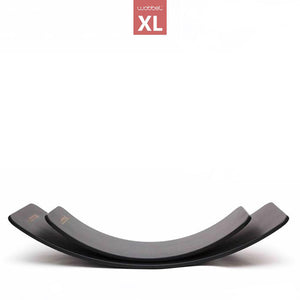 Wobbel XL Limited Edition - Black
Regular price €165,00 €175,00 On Sale
This larger version of the popular Wobbel board measures a whopping 115cm long and 40cm wide.
With love we present the Wobbel; a Waldorf classic redesigned! The Wobbel finds it's origin in the Waldorf schools. With the Wobbel we present this classic balance board in a modern design and contemporary editions.
What is it?
Is it a balance board, a swing, a bridge, a shop, a hut, a step, a racetrack, a lounge seat, or an elephants back?
Grown ups will try to define it, but children instinctively know what the possibilities are. They keep  discovering and learning new ways to play with the Wobbel.
It stimulates balance and poise
It invites to movement and play indoors.
For young and old and everyone in between.
Get fit while playing together.
And on top of that: it looks great in your house.
Available in 2 variations:
Without felt.
With black felt (advised for hard floors like laminate, wood, stone, tile, linoleum and marmoleum).
Product details:
Age/length: Suitable for all ages, but advised for children of 7 years and up. Length 140cm and up.
Size: 115 x 40cm, use weight up to 200 kilos.
Material: Made of many layers of the best European beech wood (FSC).
Finishing: Black lacquered beech wood. By the variation with black felt: EKO felt to protect floors and Wobbel and dampen sound.
Color: Black.
Dutch Design.
NOTE: Wobbel XL can only be ordered for delivery in the EU.