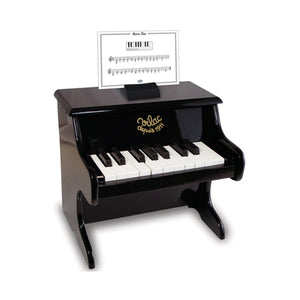 Vilac Piano – Black
Regular price €65,00 €65,00 On Sale
Black wooden piano with music sheets from Vilac.
This beautiful miniature piano toy encourages creative learning and will inspire little musicians with its charming exterior and easy-to-play keys.
The piano is crafted from wood and features 18 keys, making one and a half octaves of musical possibility. With four sheets of music included, the miniature piano toy presents a wonderful way to introduce your little one to playing and reading music.
Product details:
Age: 3 years +.
Size: 32 x 29 x 23 cm.
Material: Wood.
Color: Black.