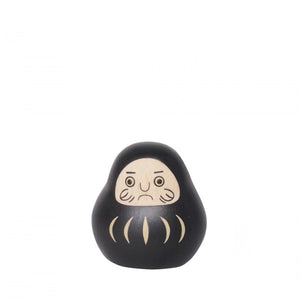 T-Lab Pole Pole Engimon Series – Dharma
Regular price €16,00 €16,00 On Sale
Decorative wooden lucky charm figure doll Dharma by T-Lab.
These whimsical wooden doll from the folks at T-Lab have been around in Japan for many years. This gorgeous Dharma will have an amazing "cheer-up" vibe in your home, on your desk or in your children's room. And with such a wonderful collection to choose from, the hard part will be picking your favorite.
This handmade wooden lucky charm figure doll is perfect for gentle play or displaying on a desk or shelf.
Product Details:
Recommended Age: 3 years +
Measurements: 5.5 / 5 / 6H (cm) approx
Material: Albizia Falcata wood, water painting
See our full range of T-Lab figures here.
T-Lab is a Japanese maker committed to communicate the warmth of wood and handworking whilst preserving the forests. "Pole Pole" means slowly, little by little, in Swahili. The original design, curved and soft makes them endearing. Cutting, carving, sanding finely and thoroughly hand painting, each piece is somewhat different and absolutely unique! Only high skilled craftsmen can obtain almost identical results for each animal. The wood comes from the fast-growing White Albizia wood and T-Lab takes care to replant the Albizia wood on their farmland in Indonesia "to give back to earth as a manufacturer".