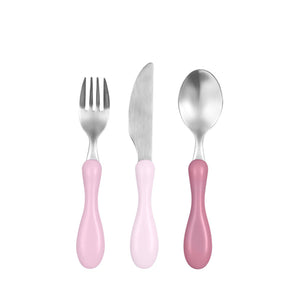 Sebra Cutlery Set of 3 – Pastel Red
Regular price €18,00 On Sale
1 left in stock
Wonderful cutlery in pretty pink colors by Sebra.
The set is consisting of a knife, fork and a spoon. A great set for the child that is learning to eat on its own.
Product details:
Size: L. 14,5cm.
Material: 100% stainless steel and plastic handle.
Color: 3 shades of pink.
The Danish company Sebra is established by Mia Dela in 2004. Mia is educated as a designer from the school of design in Kolding Denmark. Sebra Interior is modern design and an innovative choice of colours combined with old kinds of handicraft such as crocheting and knitting. A large part of the collection is handmade and made of natural materials such as wood, wool and cotton. Materials which appeal to children´s imagination and satisfy the parent´s requests for quality and creativity.