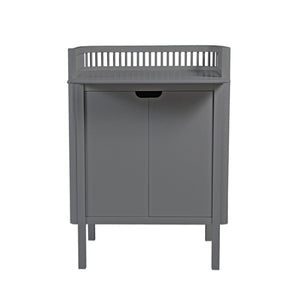 Sebra Changing Unit – Grey
Regular price €699,00 €699,00 On Sale
Sebra changing unit – an innovative 2-in-1 design.
What stands out in the Sebra changing table is the innovative 2-in-1 design, which means that it can easily be converted into a classic storage furniture piece when it is no longer needed. The furniture piece can be used both in the nursery as well as in other areas of the house – the imagination is the only limit.
The practical conversion from a changing table to a storage furniture piece is achieved simply by removing the changing board after disassembling the two angle brackets on the back of the furniture piece. This feature obviates storing and disposing of the changing table when there is temporarily no need for it – or when there is no longer a need for a changing table at all.
The furniture piece has two doors and a shelf that allows storage of changing equipment, clothes or toys in a practical and discreet manner. With the same simple Scandinavian design of the matching Sebra bed.
Product details:
Maker: Sebra Denmark.
Material: Birch wood treated with a unique, antibacterial, environmentally friendly and non-toxic wood paint.
Size: H 90 x W 74 x L 79,5 cm.