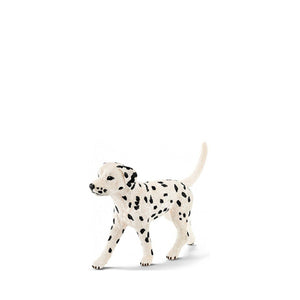 Schleich Dalmatian Male
Regular price €7,00 On Sale
Dalmatian toy figurine from Schleich.
Dalmatians are famous for the beautiful spots on their white, glossy coats. They are friendly, intelligent and extremely active. This means they need a lot of exercise and mental stimulation.
Dalmatians come from Croatia and are large, slender, elegant dogs. Their incredible spots are as unique as human fingerprints. Dalmatians are primarily cuddly family dogs, but they can also be attentive guard dogs or tireless rescue dogs. They get on very well with other animals, especially horses. That's why they used to accompany fire engines in England and are still the mascots of the New York Fire Department. For this reason, they are often referred to as "firehouse dogs".
Fun fact:
The spots on a Dalmatian's coat aren't always black. They can also be brown.
Product details:
Age: 3 years +.
Size: 7,5 x 1,8 x 4,7 cm (W x D x H).
Material: Plastic, hand painted.
These include the European Toy Safety Directive 2009/48/EC, DIN EN 71 and the international Standard Consumer Safety Specification for Toy Safety ASTM F963-2008.
Schleich number: 16838.