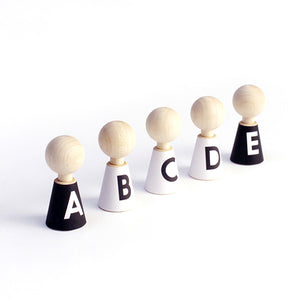 Rock And Pebble Pebbles - Alphabet
Regular price €20,00 €20,00 On Sale
Alphabet Pebbles by Rock & Pebble.
Pebbles are little modern wooden dolls with a wardrobe to grace any catwalk. Endless dress up fun with removable and reusable paper clothes (they are like post-it). Each set includes 5 blank maple dolls with 36 different designs – it's hard work choosing what to wear everyday!
The wooden dolls are made in the USA from solid maple wood. They live in a cute screen printed cotton house bag made in Poland. The stick-on paper is sourced from Germany and printed in the UK. Truly a cosmopolitan bunch! They know the best in fashion and make great companions to creative little ones.
The set comes with a simple booklet with tips for painting their faces and a page where you can keep some of your used clothes for next time. Adding facial features is easy and fun. Creating your own doll friends and choosing their favorite outfits is a fun imaginative activity. Keep any of your clothes on clean surface (smooth paper will do) and you can use them again and again, unless the dolls roll in the mud. They may do! But you have many spare clothes to play with for a long time.
Alphabet Pebbles set includes 36 A to Z and additional letters clothes in monochrome colors.
Product details:
Age: 4 year +. Note: The dolls are tiny and changing clothes will require a little dexterity.
Size: Doll height 5,3 cm.
Material: Solid Maple wood, paper and cotton.
Made in: USA, Poland, Germany and UK.