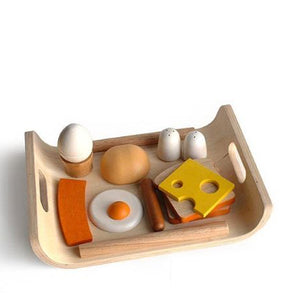 Plan Toys Breakfast Menu
Regular price €28,00 €28,00 On Sale
Children will love bringing mum and dad breakfast in bed with this stylish breakfast menu set.
Plan Toys have brought cool retro lines to a traditional role play toy. The set comprises a tray with handles and side rails so your breakfast doesn't land in your lap. Egg, bacon, bread roll, toast, cheese and a sausage are on the menu. Seasoning can be added via the supplied salt and pepper shakers!
Product details:
Age: 3 years +.
Size: Tray: 25cm x 18cm x 5cm approx.
Material: Durable rubber tree wood and non-toxic water based dyes.
The set includes breakfast tray, roll, sausage, bacon, cheese, fried egg, boiled egg, salt shaker, pepper shaker and two slices of bread.
For over 30 years, Plan Toys have been making iconic educational toys that bring children closer to nature and inspire creative imaginations and learning through play. Little hands love getting to grips with Plan Toys which are just about as eco, sustainable and high quality as toys can be. Everything is ethically made in Thailand from rubber trees that no longer produce latex, non-formaldehyde glue (which Plan Toys make themselves), organic colour pigments; and water-colour dyes – and the whole process is carbon-neutral too. As well as making FSC solid wood toys, many products are made from Planwood – an ingenious eco material made by compressing sawdust produced in the Plan Toys factory so that nothing goes to waste. All toys come packaged in recycled, non-toxic packaging which can go straight into your recycling bin.