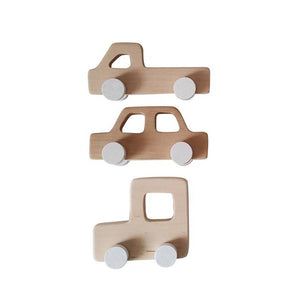 Pinch Toys Set of 3 – Retro 80's Cars
Regular price €20,00 €20,00 On Sale
'My other car is a Pinch Toys Car'…
Vroom, vroom, let's go on a ride! These beautifully handmade and painted retro mini cars drove to us through Europe all the way from Croatia to become your little one's most delightful toys. And they perfectly fit on any wooden train trucks you might already have at home.
The long truck, tall truck and car are the newest additions to the Pinch Toys fleet of vehicles made with love and care.
Unfinished Beech wood and white paint. Packed in a pretty cotton drawstring bag.
Product details:
Age: 1 year +.
Content: 3x Retro car.
Size: 11 x 5 cm approx.
Material: Alder wood and non-toxic white paint.
EN/71 Certified.
Note: Since these cars are handmade, individual variances in the style and design might appear.