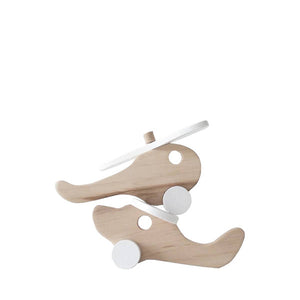 Pinch Toys Set of 2 – Helly and Plane
Regular price €20,00 €20,00 On Sale
Helly and plane a mini set of two from Pinch Toys.
This gorgeous mini set of helicopter and aeroplane is perfect for little fly fanatics. And they look so stylish on every shelf. Packed in a pretty drawstring gift bag.
Product details:
Age: 1 year +.
Content: 1x Helly and 1x plane.
Size: 11 x 5 cm approx.
Material: Alder wood and non-toxic white paint.
EN/71 Certified.