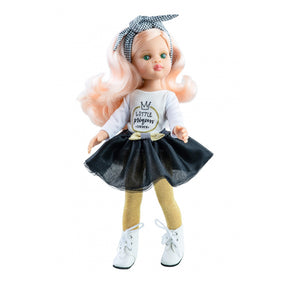 Paola Reina Doll - Amigas Funky Nieves
Regular price €55,00 On Sale
Amigas Nieves a beautiful doll from Paola Reina.
Funky Nieves is dressed in a four layered black glitter skirt and printed tee. She wears a fashionable headband with small black&white check, gold lurex tights and white shoes to complete her funky outfit.
Includes a brush to comb the doll's hair.
Nieves is one of the Las Amigas or "Friends" collection.
Main features:
The doll's arms, head and legs turn. You can put her in a standing and sitting positions;
Large eloquent eyes made from safe transparent plastic and thick eyelashes;
The doll's eyes do not close;
The dolls are handmade (eyelashes, freckles, cheeks, lips, hair), which makes the Paola Reina dolls look so natural that their faces look as if the doll is alive;
their hair looks natural, is easy to comb, and it shines;
Exclusive clothes made from high-quality textiles;
Role-playing with a doll stimulates the development of visual thinking, imagination, and speech;
The dolls have a slight vanilla aroma.
Product details:
Age: 3 years+.
Size: 32cm/13".
Material: High quality vinyl.
Hair color: Pinkish blond.
Eye color: Green.
CE certified.
Made in Spain.
Paola Reina dolls are entirely hand crafted in Spain using only the finest European materials, designed with the heart and made with love. Paola Reina's dedication to high quality dolls can be seen in each doll's angelic hand painted facial features, eloquent sparkling eyes, lush hair and eyelashes, detailed clothes and accessories. The vinyl dolls are soft to the touch, yet durable allowing the dolls to withstand all the love and adoration given to them. Paola Reina creates dolls that every child can identify with, regardless of gender, race and culture. Paola Reina dolls are the cherished companions of children around the world, with their unparalleled quality also making them trusted by parents and the perfect addition to any doll collection.