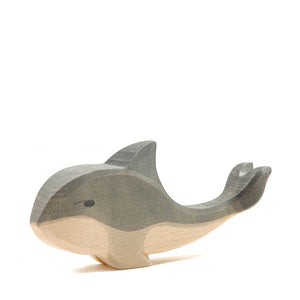 Ostheimer Whale
Regular price €23,00 €23,00 On Sale
1 left in stock
Timeless Waldorf whale figure from Ostheimer.
The largest animal on earth, you'll find this graceful whale swimming through the deep ocean. Perfect for story sacks, marine scenes, fairytales and imaginative play.
Ostheimer toys are beautiful and tactile special toys to collect and cherish. All figures are hand-crafted in Germany. The wood used in Ostheimer toys comes from sustainable domestic forestry. Each product is a unique item individually shaped with love and care. Thus, the Ostheimer Waldorf toys allow children to immerse themselves into the vivid imaginative world of play.
Product details:
Age: 3 year +.
Made in: Germany since 1940.
Size: Height 8cm approx.
Material: This figure is handcarved and -painted using natural wood and nontoxic colors that conform with the stringent European toy safety standard EN71.
Margarete Ostheimer, a Waldorf (Steiner) teacher, began a collection of toys which enliven the imagination. In her own words: "It is the fantasy of our children alone that breathes life into the seemingly stiff wooden figures, the form and colour of which purposely have been reduced to an essential minimum. It is apparent how little coaching our children need to dive into their worlds."
Ostheimer wooden toys have been loved by children for over 70 years. Each Ostheimer wooden figure is made from local sustainable hardwood, painted with safe transparent paint and finished in organic oil to ensure a connection with nature and respect for the environment.