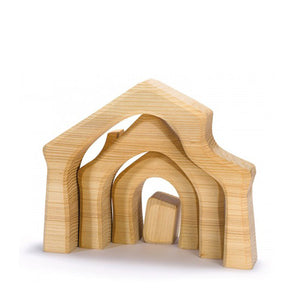 Ostheimer Nativity Stable - Small 4 pieces
Regular price €44,00 On Sale
1 left in stock
Small nativity stable by Ostheimer.
This is a more abstract representation of the nativity stable, and will bring space and light to your nativity display in miniature. The four pieces have a natural finish to better emphasise the beauty of the natural wood grain. May also be utilised for imaginative play throughout the entire year!
Ostheimer wooden toys have been loved by children for over 70 years. Ostheimer's wonderfully expressive wooden toys and figures are produced from hardwoods of the finest quality, such as maple, elm and ash. Every Ostheimer figure is sanded, painted with non-toxic stain, and varnished by hand, a process which ensures that each one is absolutely unique.
Slight differences in colour and slight deviations in the structure of the grain contribute to the special charm and uniqueness of Ostheimer figures.
Product details:
Age: 3 years+
Made in: Germany since 1940.
Size: H. 12,5cm and W. 16cm
Material: Pine wood finished with natural oil.
Margarete Ostheimer, a Waldorf (Steiner) teacher, began a collection of toys which enliven the imagination. In her own words: "It is the fantasy of our children alone that breathes life into the seemingly stiff wooden figures, the form and colour of which purposely have been reduced to an essential minimum. It is apparent how little coaching our children need to dive into their worlds."