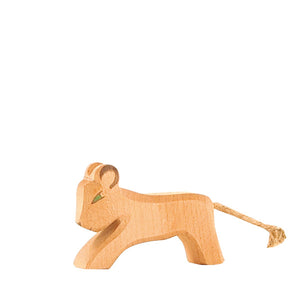 Ostheimer Lion Small - Running
Regular price €12,00 €12,00 On Sale
A small running lion carved wooden figure by Ostheimer.
Whether playing with his sister, drinking at the oasis, or hunting with his pride, this young lion is sure to have many playroom adventures.
Ostheimer toys are beautiful and tactile special toys to collect and cherish. All figures are hand-crafted in Germany. The wood used in Ostheimer toys comes from sustainable domestic forestry. Each product is a unique item individually shaped with love and care. Thus, the Ostheimer Waldorf toys allow children to immerse themselves into the vivid imaginative world of play.
Product details:
Recommended age: 3 year +
Made in: Germany since 1940.
Product size: H. 5 cm and W. 10cm (including the tail) approx.
Material: This figure is handcarved and -painted using natural wood and nontoxic colors that conform with the stringent European toy safety standard EN71.
See also our full range of Ostheimer.