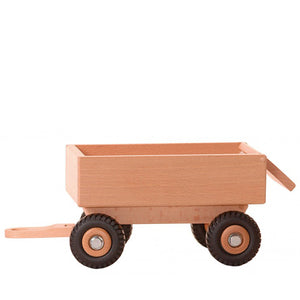 Ostheimer Kipper for Tractor
Regular price €61,00 €61,00 On Sale
Wooden toy trailer from Ostheimer.
This heavy duty wooden toy trailer is just what every young farmer needs. The dump feature makes all their farm jobs possible without endless loading and unloading. Hitches easily onto the back of the tractor. The long hitch and sturdy rubber wheels make backing up and turning a cinch. Children love loading the trailer with animals and driving them around their farm. This trailer combined with the tractor will keep them busy all day on the farm. And at night simply back their tractor and trailer into the barn to keep it out of the evening weather.
Ostheimer consciously decided to give their wooden vehicles simple fundamental forms and functions. This way children will use their imagination and their own initiative to bring the play scenes alive. A first idea of basic steering skills can be playfully experienced.
Their vehicles are made of solid basswood. All materials used are certified. They guarantee not only toys of the highest quality but also safety for your child at play.
Product details:
Age: 3 years +.
Size: 30 x 13 x 12 cm.
Material: Basswood.
Made in Gremany since 1940.