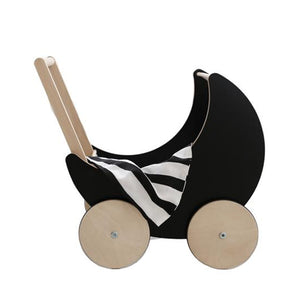 Ooh Noo Toy Pram - Blackboard
Regular price €119,00 On Sale
Ooh Noo toy pram blackboard style.
A beautiful handmade wooden doll pram in a minimalist style by Ooh Noo and now comes with blackboard sides!! This moon-shaped doll pram consists entirely of wood with rubber trim at the wheels so that it does not make stripes. The cutest toy pram for your little one to transport their favorite stuffed animals and dolls in. Add a blanket and pillow, and they have the most adorable little bed on wheels.
Product details:
Size: 25 x 43 x 51 cm.
Material: Handmade in wood with rubber trim at the wheels.
Manufactured in the EU.
Please note; the blanket is not included, simply used for styling.
Note: Doll prams are often not suitable for learning to walk but to play and walk with them once your little one is well independently and runs.
Doll bedding specially designed for the Ooh Noo pram to keep your little ones dolls warm and cozy. Available in Blushing Blossoms, Starry Night, Tiny Triangles, Freestyle and Zebra.
All products of Ooh Noo are designed and created with love and traditional craftsmanship, featuring original artwork, created especially for the Ooh Noo collection by a team of own designers. When it comes to children, they don't compromise: everything is hand-made exclusively out of pure old-world materials.